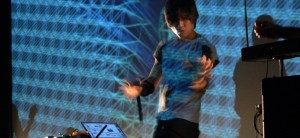 We went with the London Music Hackspace to the BEAM festival this weekend.
Had a great time, met lots of lovely people and saw some amazing performances!
On the Sunday we played a set with the Hackspace Big Band, which was a lot of fun: Stoicheia and a few prototypes featuring as part of the improvised performance.
Massive thanks to Atau Tanaka and the organisers, hope to enjoy much more of this in the future.